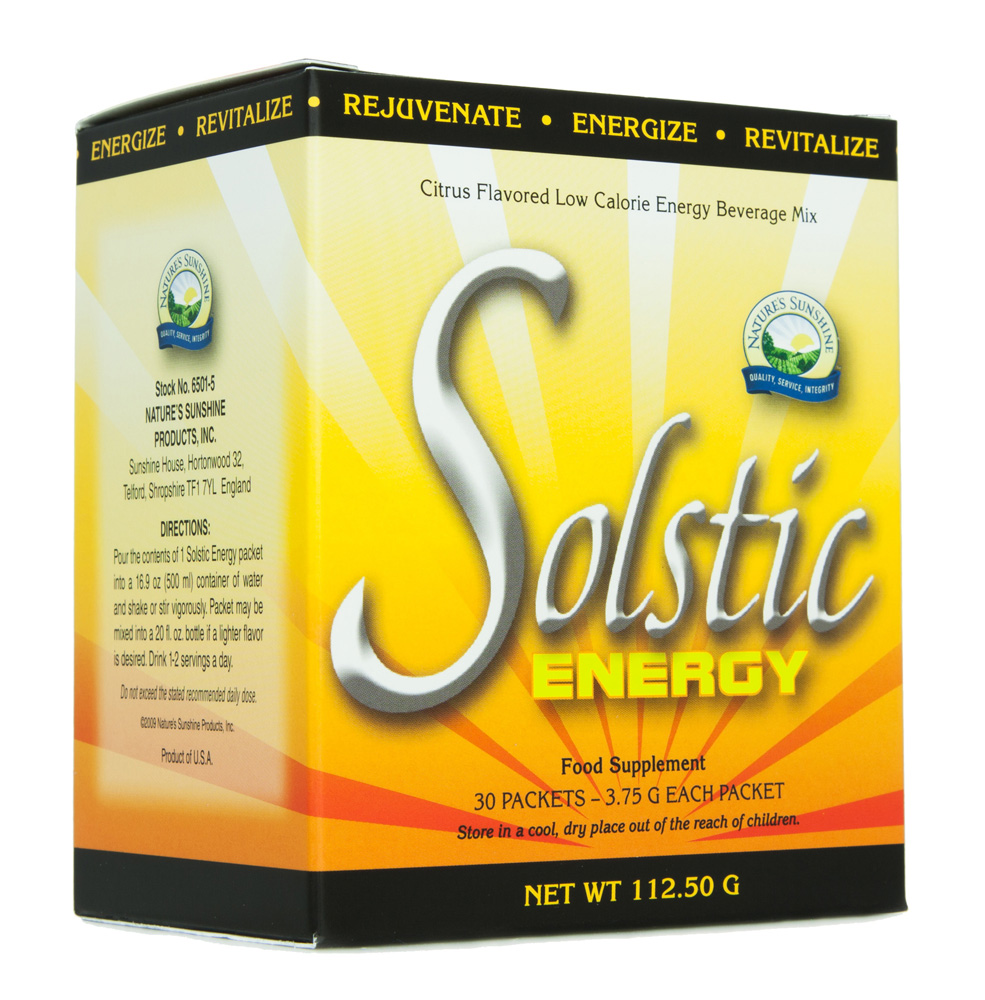 Solstic Energy is a nutrient rich formula that boosts energy without the jitters and crashes of other energy drinks. Solstic's blend of natural, energy boosting ingredients gives added stamina without crashing later, and without added long term health risks. It contains the complete complex of B vitamins which play an important role in energy metabolism. It comes in convenient, take anywhere, easy to use stick packs. Solstic Energy is the natural choice for when you want alertness without the side effects and is more than just a delicious thirst quenching beverage!!! It contains 9 key ingredients which give the body energy and vitality, helps reduce fatigue, increases mental focus and boosts metabolism. Take Solstic Energy along with you to the office, sporting events, traveling, or anywhere you are involved in activity.Ingredients: Medicinal: Paullinia cupana (Guarana) seed, 283 mg of an extract standardized to 22% caffeine, Panax ginseng (Korean Ginseng) root, 100 mg of an extract standardized to no less than 3.5% total ginsenosides, Vitis vinifera (Red grape) skin, 50 mg of a 20:1 extract, Camellia sinensis (Green Tea) leaves, 50 mg of a 10:1 extract standardized to no less than 80% total polyphenols, Niacinamide (vitamin B3) 24 mg, D-calcium Pantothenate (vitamin B5) 10 mg, Pyridoxine Hydrochloride (vitamin B6) 2.0 mg, Riboflavin (vitamin B2) 1.7 mg, Thiamine Mononitrate (vitamin B1) 1.5 mg, Cyanocobalamin (vitamin B12) 6 mcg. Each packet contains 60 mg of caffeine from guarana seed extract. Non-medicinal: maltodextrin, citric acid, citrus flavour blend, malic acid, sucralose, silicon dioxide. Each Box contains 30 sticks. Sticks can not be sold individually.
Solstic Nutrition is a great tasting tropical fruit flavoured drink mix containing a comprehensive array of 15 essential important elements. Vitamins and minerals in liquid form are digested faster and assimilated into the body more quickly than tablets, pills or gummies. Balanced nutrients are often in short supply during special periods of physical stress or convalescence, or in the North American diet which consists mostly processed and nutrient deficient foods. this blend was formulated to top up missing key nutrients in your diet and to ensure your basic health requirements are met. Suitable and safe for all ages.Ingredients: Medicinal: Vitamin A (beta-carotene) 500mcg, vitamin C (ascorbic acid) 60mg, vitamin D3 (cholecalciferol) 10mcg, vitamin E (d-a-tocopheryl acetate) 30 IUs, vitamin K1 (pylloquinone) 30mcg, thiamine (mononitrate, vitamin B1) 1.50mg, riboflavin (vitamin B2) 1.70mg, niacinamide (vitamin B3) 20mg, vitamin B6 (pyridoxine hydrochloride) 2mg, folic acid 200mcg, biotin 150mcg, pantothenic acid (calcium-d-pantothenate) 10mg, calcium (lactate) 100mg, magnesium (gluconate) 40 mg, zinc (oxide) 3.70mg. Non-medicinal: maltodextrin, citric acid, tropical fruit natural flavours (tangerine, orange, pineapple and lemon), beetroot red, D-tartaric acid, DL-malic acid, sucralose, silicon dioxide. Each Box contains 30 sticks. Sticks can not be sold individually.
Price and availability subject to change, contact us for further ordering information.
Disclaimer: All information contained, written, portrayed or visualized on this website should not be taken as a form of diagnosis, treatment or prescription. It is strongly advised that you seek the assistance of a competent wellness professional before embarking on any changes to your personal well being. No claims are made for promissory reason and any information contained on this site is for educational purposes only. Any statements made have not been evaluated by the FDA or CHB and should never take the place of or be considered a substitution for the advice of your qualified health care provider.